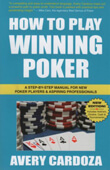 HOW TO PLAY WINNING POKER
SCU:978-1-58042-236-9
Millions of dollars are waiting for you in poker's most exciting game, no-limit Texas hold'em, and this book shows you how to claim your share of it! McEvoy and Vines, who have won cuontless tournaments, teach you the essential moves and strategies that will make you a major threat in any tournament you play.
You'll learn a wealth of information in this book: How to use bluffs, position, and big stacks to bully opponents and win chips, how to adjust between no-limit tournaments and cash games, how to play rebuy and add-on events, and how to adjust strategies for every type of opponent and tournament structure. From basic plays, intermediate tactics, and advanced strategies, to the professional plays used by world champions, this powerful guide is a complete course in winning small, medium, and big money tournaments.
You'll also learn:
7 essential winning concepts of no-limit hold'em
10 top tips for winning small, medium, and big tournaments
15 fatal flaws and how to fix them
actual hands played at championships
strategies to beat online tournaments
As thrilling as it is to watch players push mountains of chips around on television, its even more exciting when you're t he one hauling in those chips!