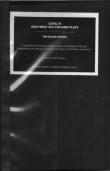 EAST-WEST: OFF -THE-GRID PLAYS ( THE BLACK PAPERS)
SCU:A1028
These very advanced exotic plays take you off the grid to find opportunities other

players don't even know are there! You avoid hot numbers that are played out and

overdue numbers that just aren't showing. Instead, you run finesse plays between the

seams. The Black Papers focus on forensic sleuthing with advanced decades analyses

and clever moves. You look for very particular circumstances, when everything is lined

up and come in hard with numbers that other players miss.

You need to do more work with the East-West strategy, using "hidden" numbers from

both spectrums that have performed but not been overplayed. You learn how to create

simple distance charts, complex distance charts and to use powerful strategies included

here and found nowhere else including backward plays, split tens, weighted tens, and

reverse tens. Bonus: Free Wild Card strategy—one of the most advanced plays ever!